About HireWriters.com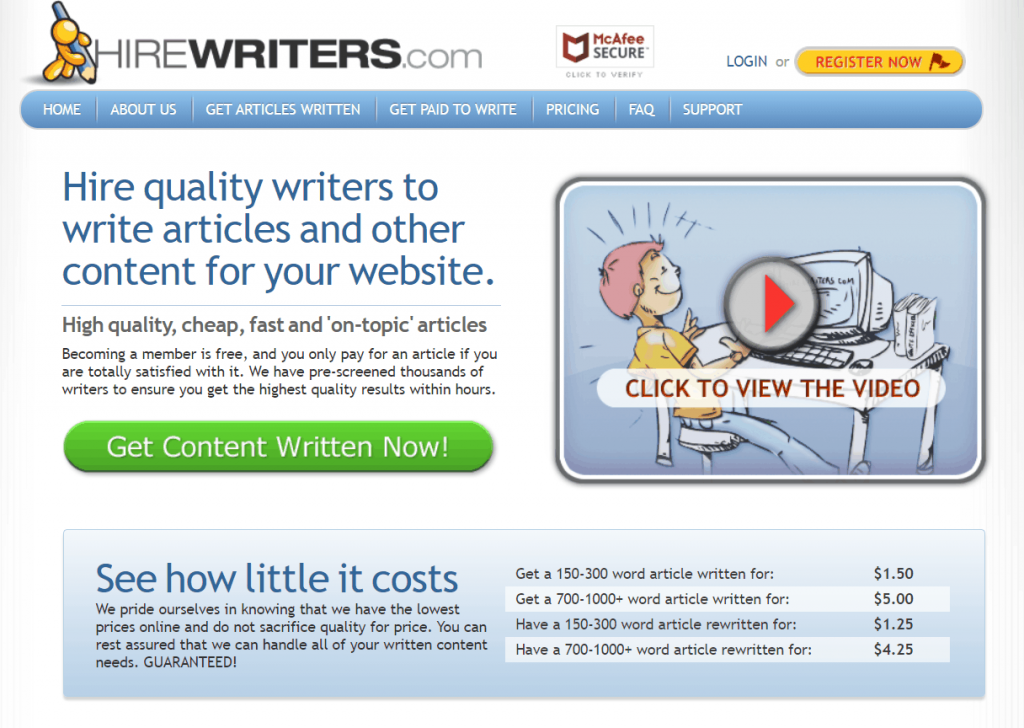 | | |
| --- | --- |
| Official website: | hirewriters.com |
| Pricing: | Beginner level writers charge starting at 1.85 USD for writing a new 150-300-word article. The prices vary depending on the number of words, writer's level, and type of a task. |
| Size: | 1000+ writers |
| Payment Option: | PayPal, credit and debit cards. |
| Minimum Deadline: | 6 hours |
| Discount: | 25% bonus on the amount of the first deposit |
| Refund Policy: | NO, you may get the refund on unspent balance only |
| Established: | 2012 |
| Serving Country: | Not specified |
| Revision Policy: | NO |
| Headquarter: | Based on the applied legal regulations, the company is located in Wilmington, Delaware |
| Phone Number: | NO |
| Wikipedia: | NO |
| SiteJabber Rating: | 2.1 more details |
| Trustpilot Rating: | Absent |
| Glassdoor Rating: | Absent |
| Google Rating: | 4.0 out of 10 |
General impressions
Getting acquainted with the service starts with an outdated website that does not adhere to modern standards of the online business. Moreover, the lack of information about the service, as well as the absence of Hirewriters reviews on Glassdoor and Trustpilot, reflect the inability of Hirewriters to develop considerable clients and writers' base. 
Website's Design and Structure
Apart from the outdated and boring design with the absence of high-quality logos, the website possesses a complicated sign-up procedure. Neither writers nor clients, which is especially strange, can log in right after creating the account. It must be activated by the account manager first, which is definitely not a customer-oriented approach. While people who want to work from home can wait some time, clients who want to place the order as soon as possible will not wait for the account's approval. Notable lack of pages on the website makes one think that the minimum possible resources were spent on developing. There are only basic pages "Home" and "About Us" apart from login pages for clients and writers, pricing, FAQ, and Support pages. There are no useful guides and helpful resources for any category of visitors. While such a simplistic attitude may be comfortable for some people, it reflects the lack of care.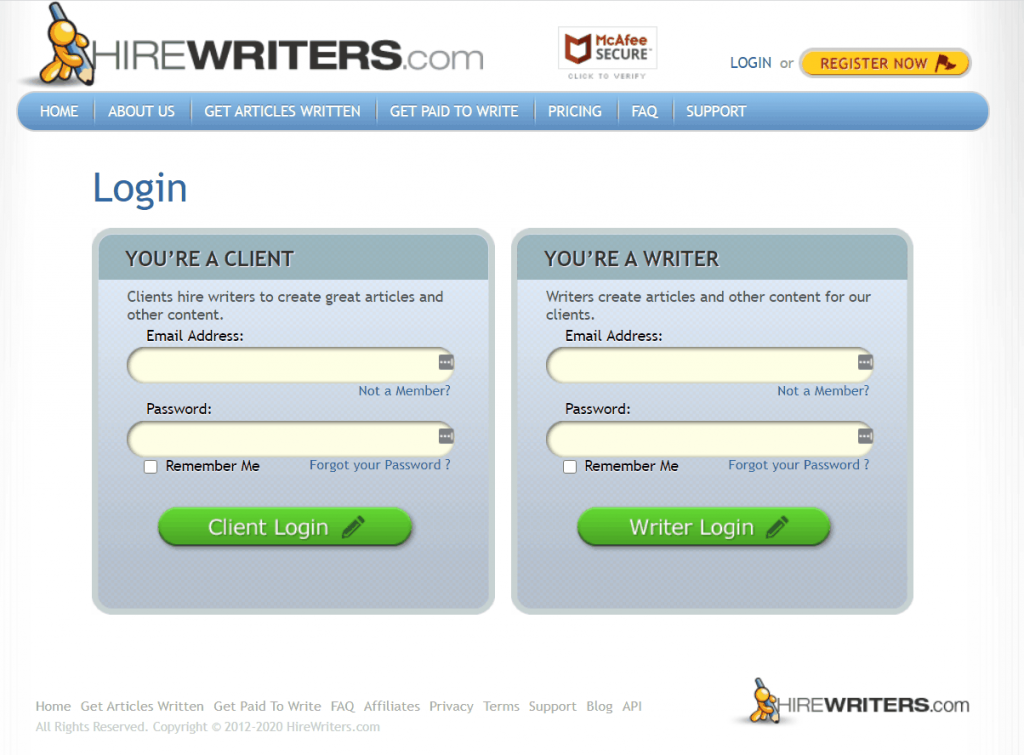 Order Placing Procedure
First of all, the client with the approved account needs to complete a deposit in his or her account and the minimum amount is $10. The order form is rather long and includes many sections that can be united in one to improve users' experience, for example, "article tone" and "keywords" can be combined with the "special instructions" field. This can be seen in the real project's order form in profile example where all sensitive information was deleted. Also, it is not clear what to do if you need to complete some other homework, such as take-home or online exam. These types of assistance are not provided and the way how does Hirewriters work makes it clear that the company does not follow modern trends and shift to online education.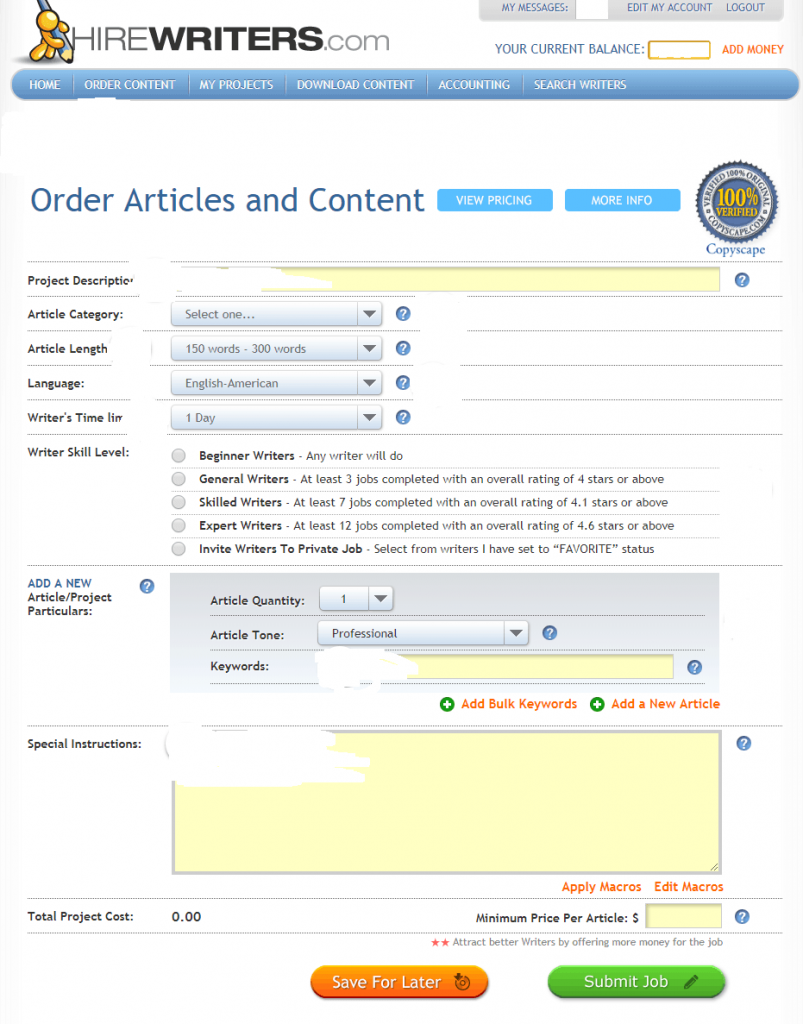 Who Will Complete Your Order?
Given the overall level of Hirewriters rates and, consequently, the compensation that can be offered to writers, it is unlikely that true professionals will spend their precious time on the platform. What pricing writers could receive if clients pay starting from 1.85 USD? India and the Philippines are what countries does Hirewriters hire because freelancers there often agree to write a 2-page paper for 2 USD only. Based on how much does Hirewriters pay, it is obvious that only inexperienced ESL writers seek employment on this website which can be proved by the quality of work the clients receive. 
Is Customer Support Helpful? 
Support Team can be contacted via email only, there is neither phone number you can call nor other alternatives such as live chat. Clients can contact an assigned writer via the messaging system in the order page itself but the email communication may take both writer and support times equal to days to solve issues that could have been solved in minutes via phone call or instant chat.
Security Overview
While Hirewriters.com has the McAfee certification, its Terms of Use does not protect the clients whose property may be damaged by viruses or other harmful software downloaded from the account.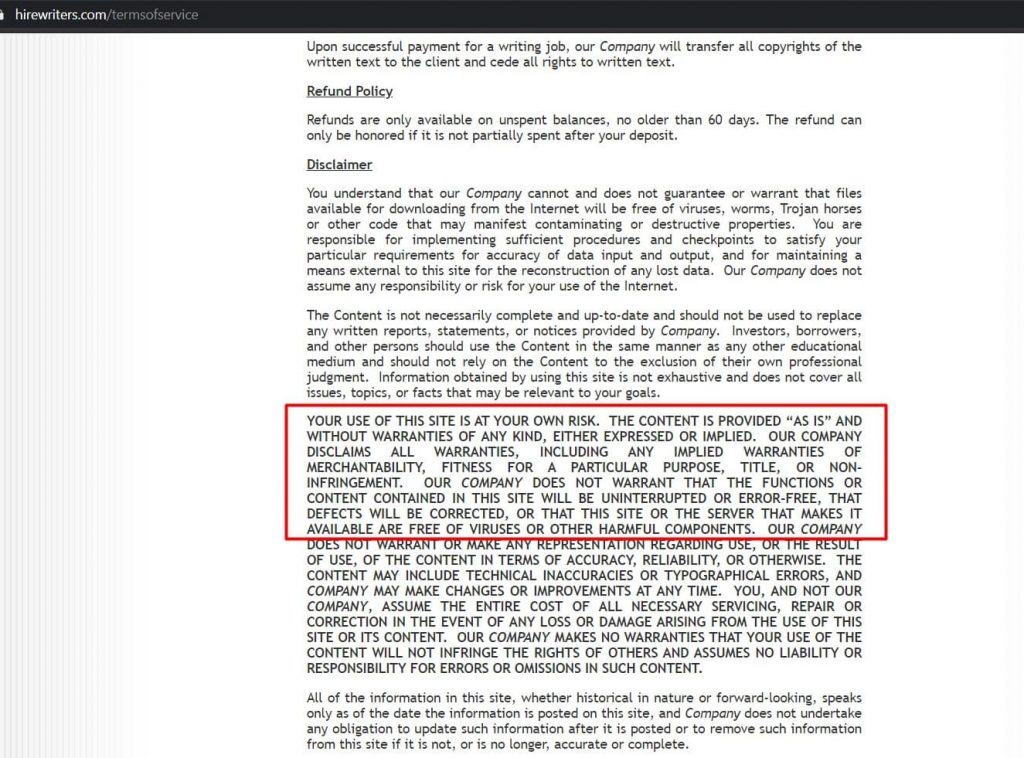 However, the main concern for clients is whether plagiarism can occur in Hirewriters research papers. The order form states that all papers are checked through Copyscape plagiarism detector, but it is a free online-based tool that cannot stop Hirewriters scam. Even if the content is not copied, employees often do not know how to do citations in Hirewriters according to generally accepted rules of acknowledging sources. As you know, the absence of appropriate references still triggers severe quality issues, which is mentioned by many Hirewriters content review posts. 
What About Bonuses?
The service currently provides only one bonus being achievable and relevant, which is the 25% additional money for first-time clients on the amount of their first deposit.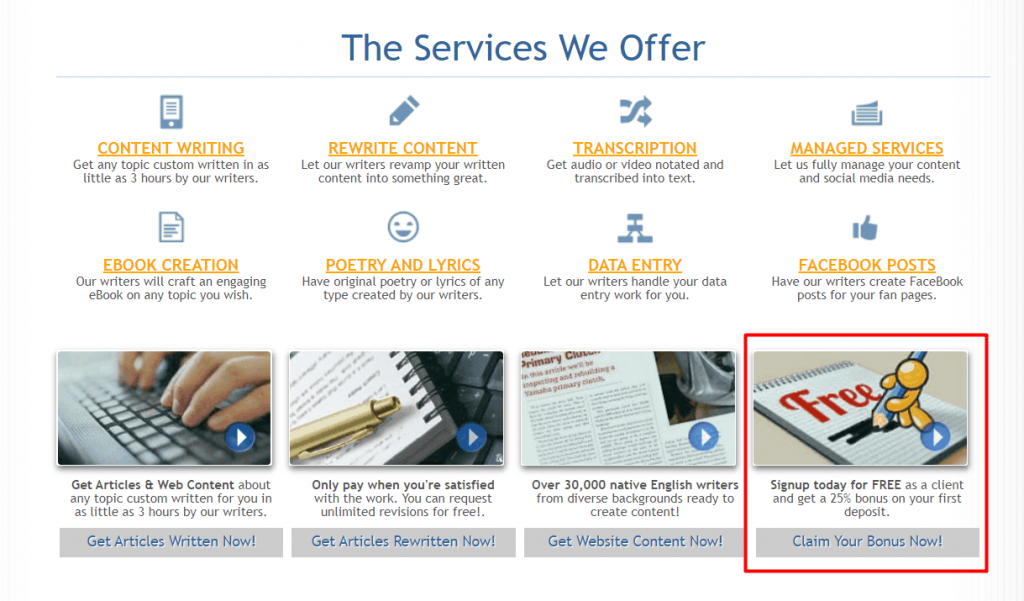 What Do Clients and Employees Think?
The majority of both clients and writers are not satisfied with their experience using the service. For instance, former employee's Hirewriters review on Reddit reflects the inefficiency of the rejection rate system which is used on the platform and results in writers' doing their work for free. The reason is that the employee cannot become a reseller of the completed articles as he or she loses the ownership upon uploading the content on the website. If the client rejects the provided paper due to quality issues, all work has been done for nothing without payment.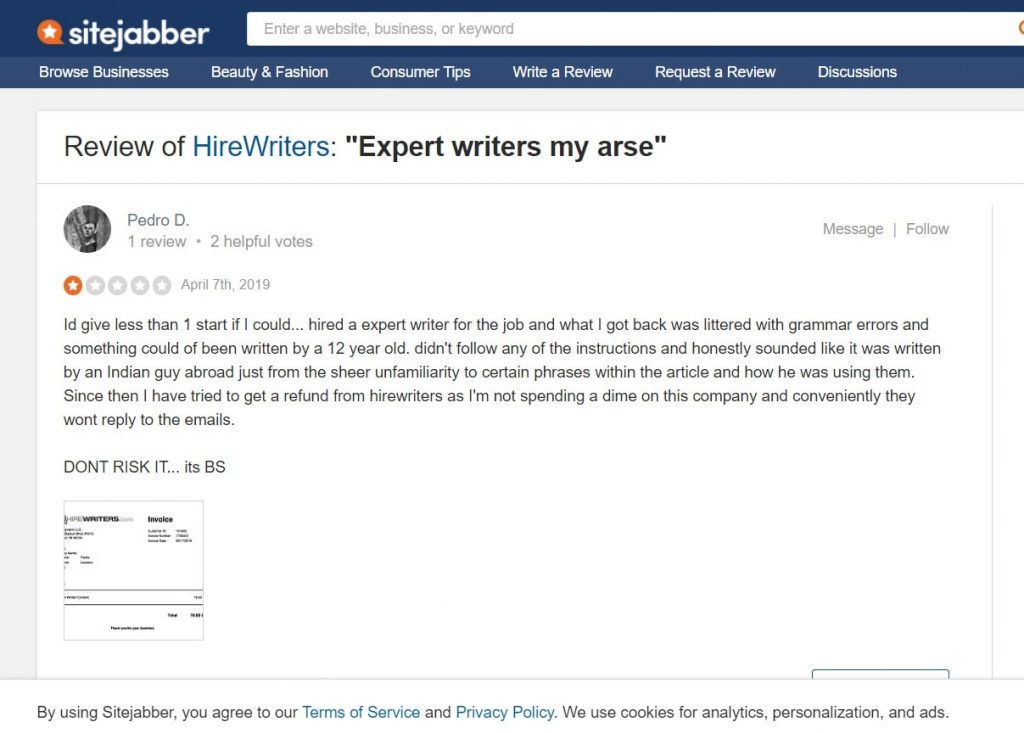 That is why expert writers are reluctant to stay on the platform and the prevalence of inexperienced writers causes clients' frustration. Moreover, there is no just one writer review that complains on payout time or even completely banned accounts. Many employees highlighted that Hirewriters is not the place to earn money. In turn, more clients become unsatisfied with the received papers because the majority of writers who agree to do their orders are not proficient enough.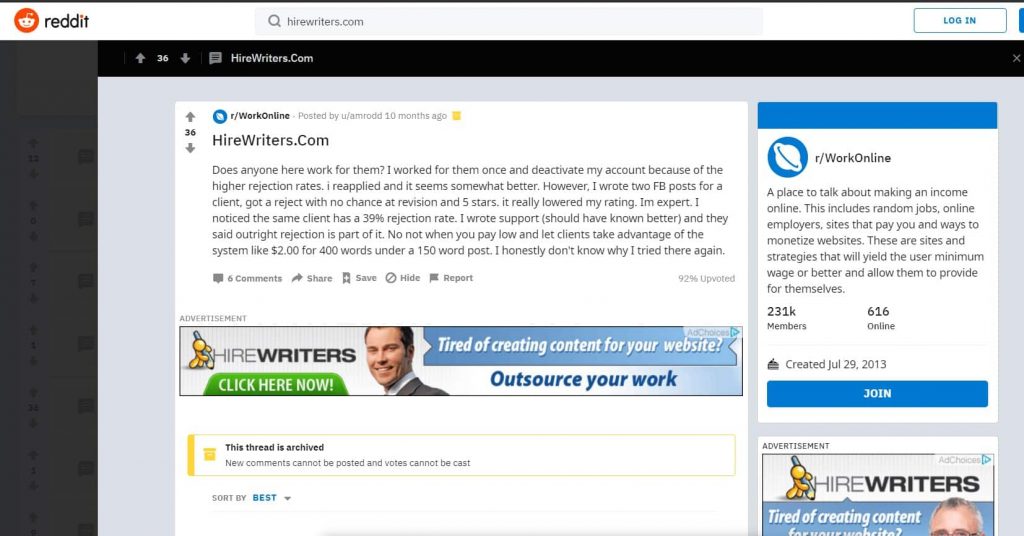 Hirewriters.com FAQ
⚖️ Is Hirewriters.com legit?
Based on the quality of writers' working and multiple negative reviews, Hirewriters.com could not be treated as legit service and the presence of McAfee certification will not change the situation for better. 
📌 Is hirewriters.com good?
Given the rate paid to assistants to complete writing services, the employees are not motivated to complete high-quality work. It is already visible based on multiple clients' complaints on the unsatisfactory level of work.
📌 Is hirewriters.com cheating?
Bad quality of completed articles will definitely let you down, thus, even though the content may not be entirely copied from somewhere else, lack of attention and care can be equal to cheating.
💸 Are there hirewriters.com discounts?
There is only a 25% bonus on the first deposit, no other discounts are available.
💰 How much does hirewriters.com cost?
Prices vary from 1.85 USD for 150 words written by Beginner writer to 1250 USD for approximately 100 pages of the e-book written by Expert writer.
🔎 Can you get caught using hirewriters.com?
While the writers do not own the copyright and the provided content is checked through Copyscape, this online tool has low sensitivity and you may still get caught for plagiarized content.
| Rank | Service | Quality | Support | Prices | Review | Website |
| --- | --- | --- | --- | --- | --- | --- |
| 1 | | | | | | |
| 2 | | | | | | |
| 3 | | | | | | |
| 4 | | | | | | |
| 5 | | | | | | |
Conclusion
Hirewriters.com cannot be recommended to both employees looking for remote jobs and clients expecting high-quality content since the information provided by the service is often misleading and many other people already wasted their time and efforts on this platform.