With tons of deadlines and the daunting process of writing academic papers, countless academic writing services offer their expertise in easing your academia-related stress. Some of these professional websites make one step further by offering unique ways of crafting academic papers. EssayBot, for instance, offers a solution based on, finally, artificial intelligence, which sounds pretty ambitious and intriguing. So, dear students, read on till the end of the article to get to know more about what Essay Writer Bot can offer to you.
About Essaybot.com
Let's take a quick glance at the most crucial information you should be aware of when it comes to this academic writing service, as follows:
| | |
| --- | --- |
|  Official Website | essaybot.com |
|  Pricing | A subscription-based model |
|  Size | Technical crew to support the AI technologies |
|  Payment Options | AMEX, Discover, MasterCard, Visa |
|  Minimum Deadline | Depends on you and your knowledge of the topic |
|  Discounts Available | Yes |
|  Refund Policy | Yes |
|  Established | 2017 |
|  Serving Countries | USA, AU, CA |
|  Reworks | Yes |
|  Contact E-mail | [email protected] |
|  Wikipedia | No |
|  Sitejabber Rating | None |
|  Trustpilot Rating | 3.6 |
|  Reviews.io Rating | None |
|  Glassdoor Rating | None |
|  Google Rating | None |
Pricing
You should be aware that this writing bot doesn't involve any humans in the actual process of writing your papers. For such services, you'll have to subscribe, whereas different pricing models include $2.49 for a week's trial as well as four different modes of subscriptions. If you are up for paying monthly, be sure to pay no less than $9.95, whereas quarter, half-year, and yearly subscriptions can reduce your monthly cost to $8.32, $7.65, and $4.95, respectively.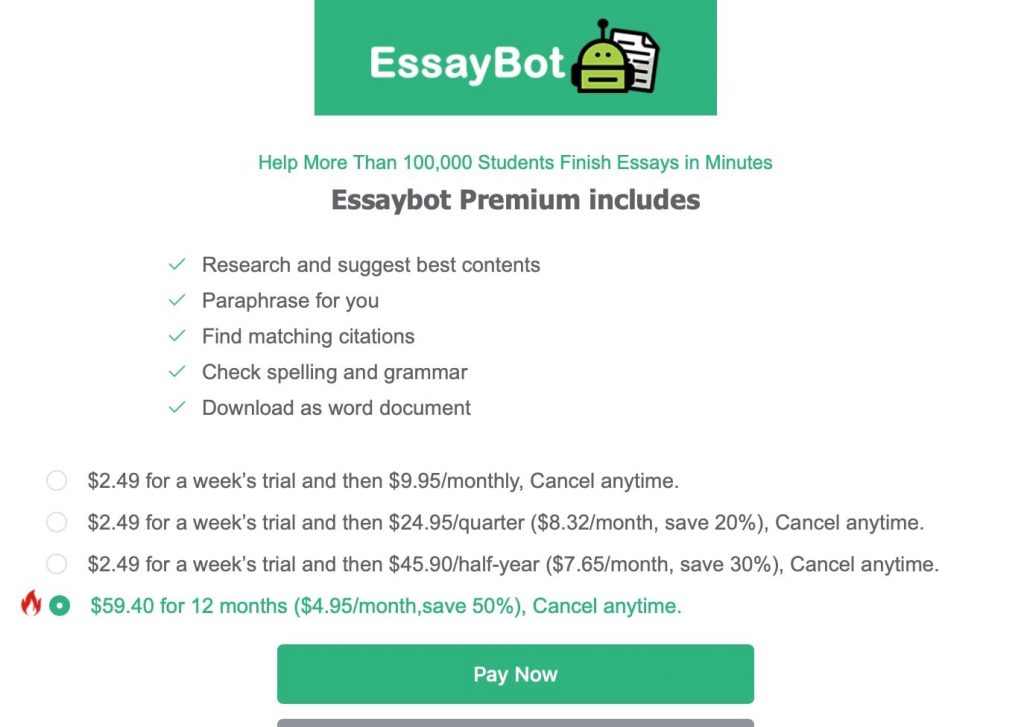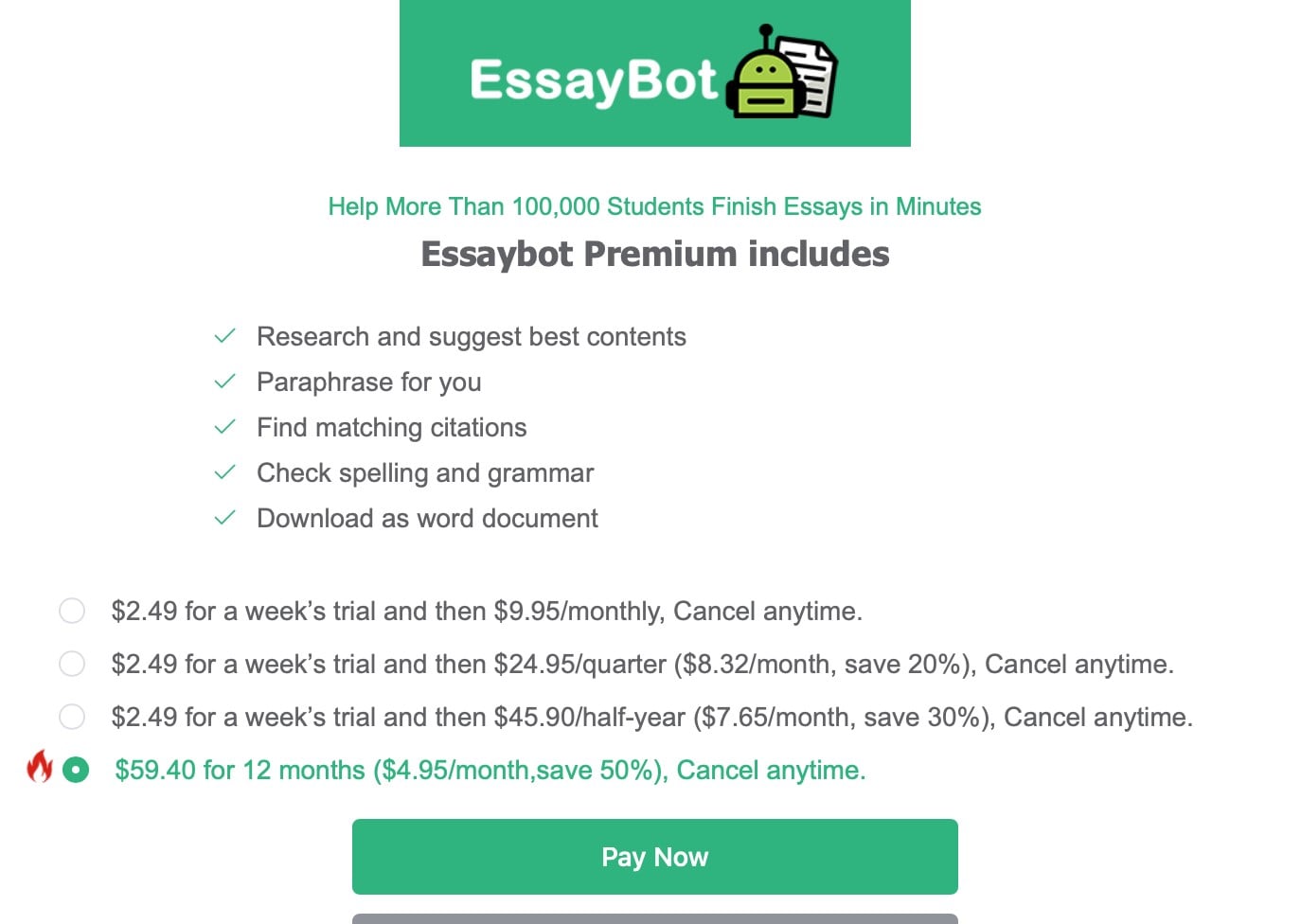 Quality
When it comes to the quality of service, we have tons of questions for the developers of this AI technology. Let us best represent you the examples of how terrible AI can be in understanding humans. Let's say that we need a paper for a History 101 class on a topic of war crimes of Japan during the Korean annexation.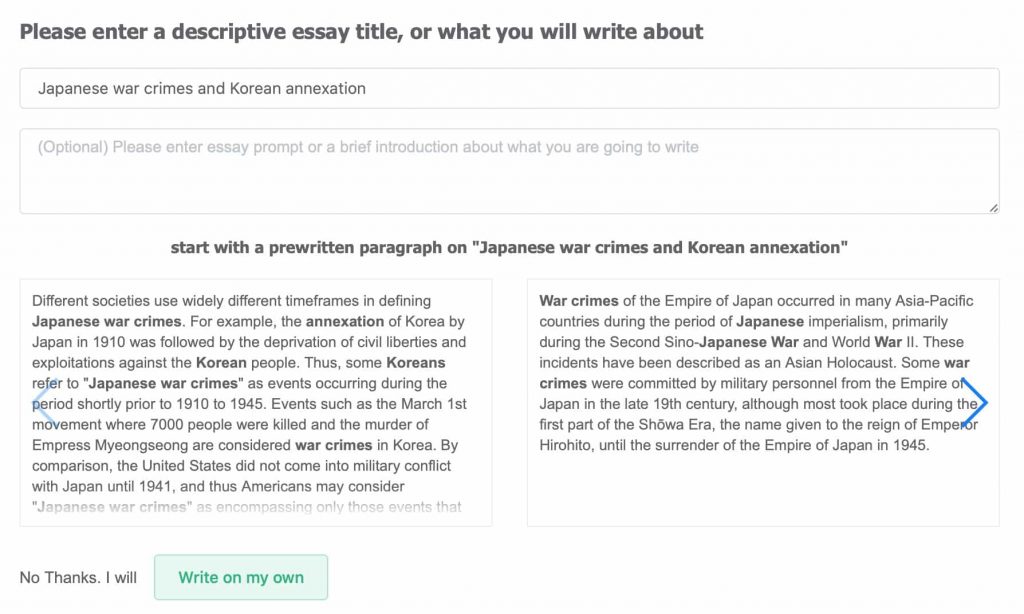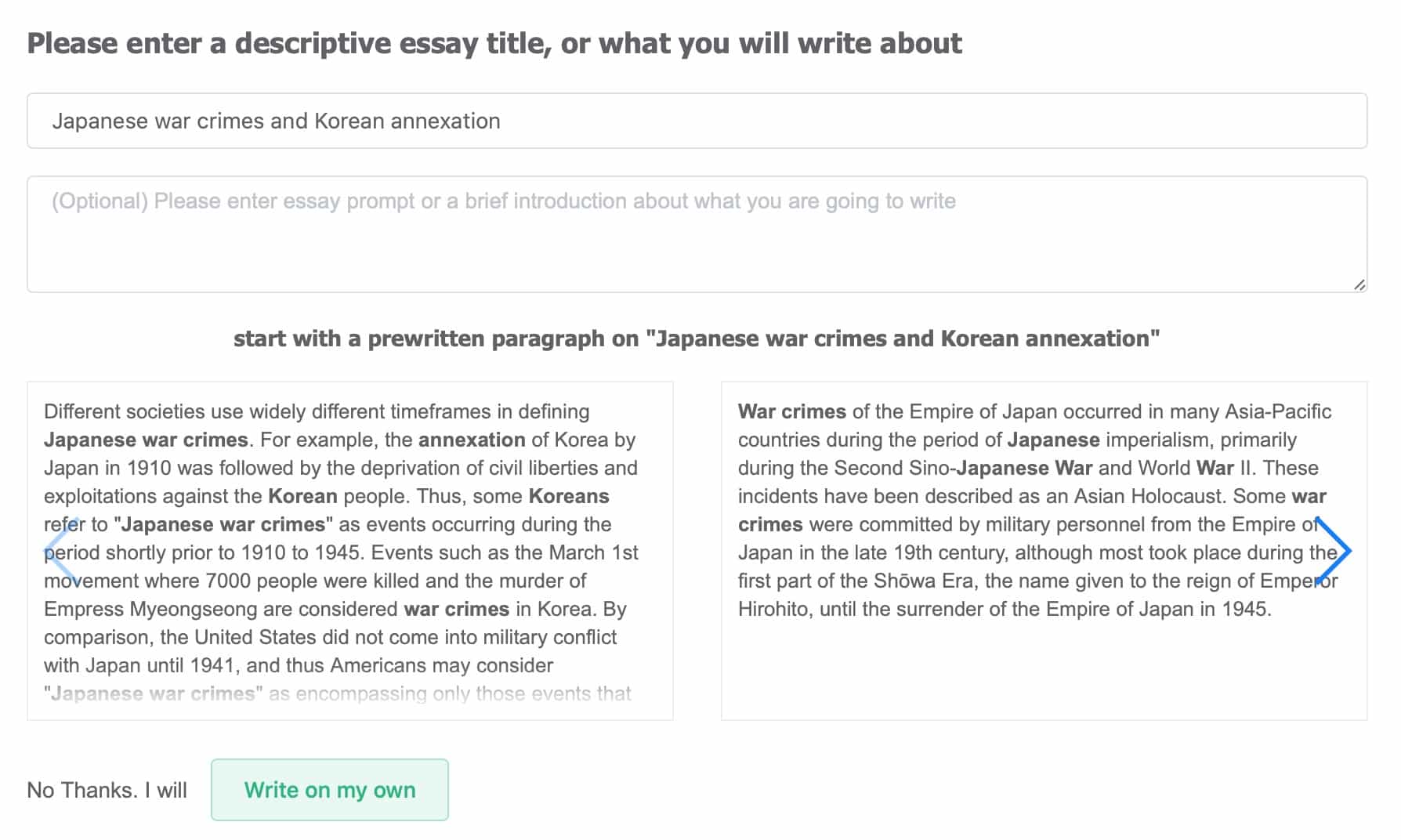 Once we enter an essay title, the website recommends a few absurd opening paragraphs, which are unrelated to our research topic. Once we choose one of them, this writer bot rephrases a paragraph by replacing words with synonyms. The next step is to try out what auto writing is. In fact, it just tries to add more non-sense sentences to the already "out of this world" paragraph. We found out in our Essaybott review that this service can do homework with your assistance, but you'll never get an A or even B for such a quality of the written material.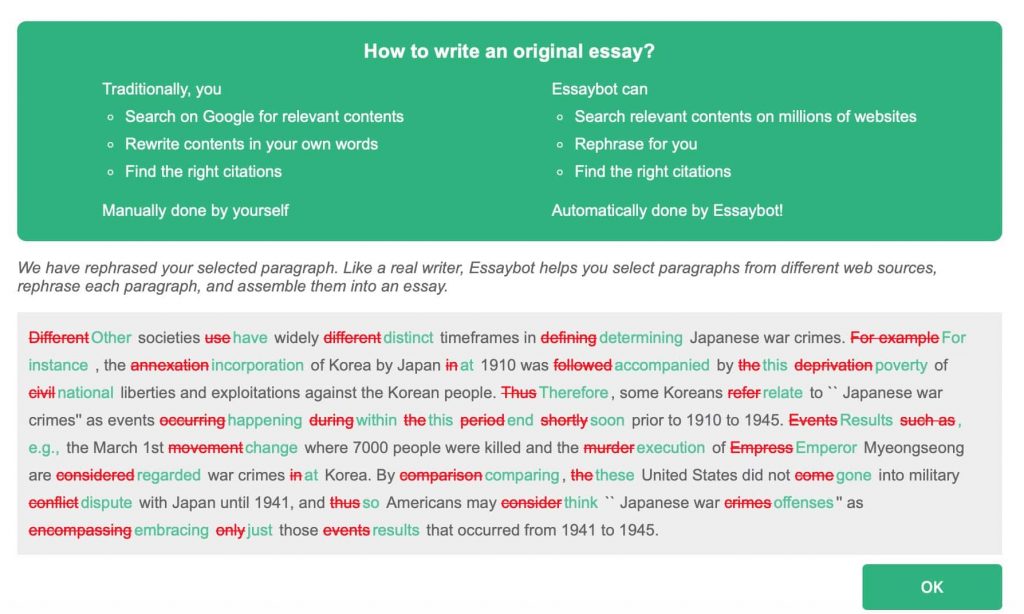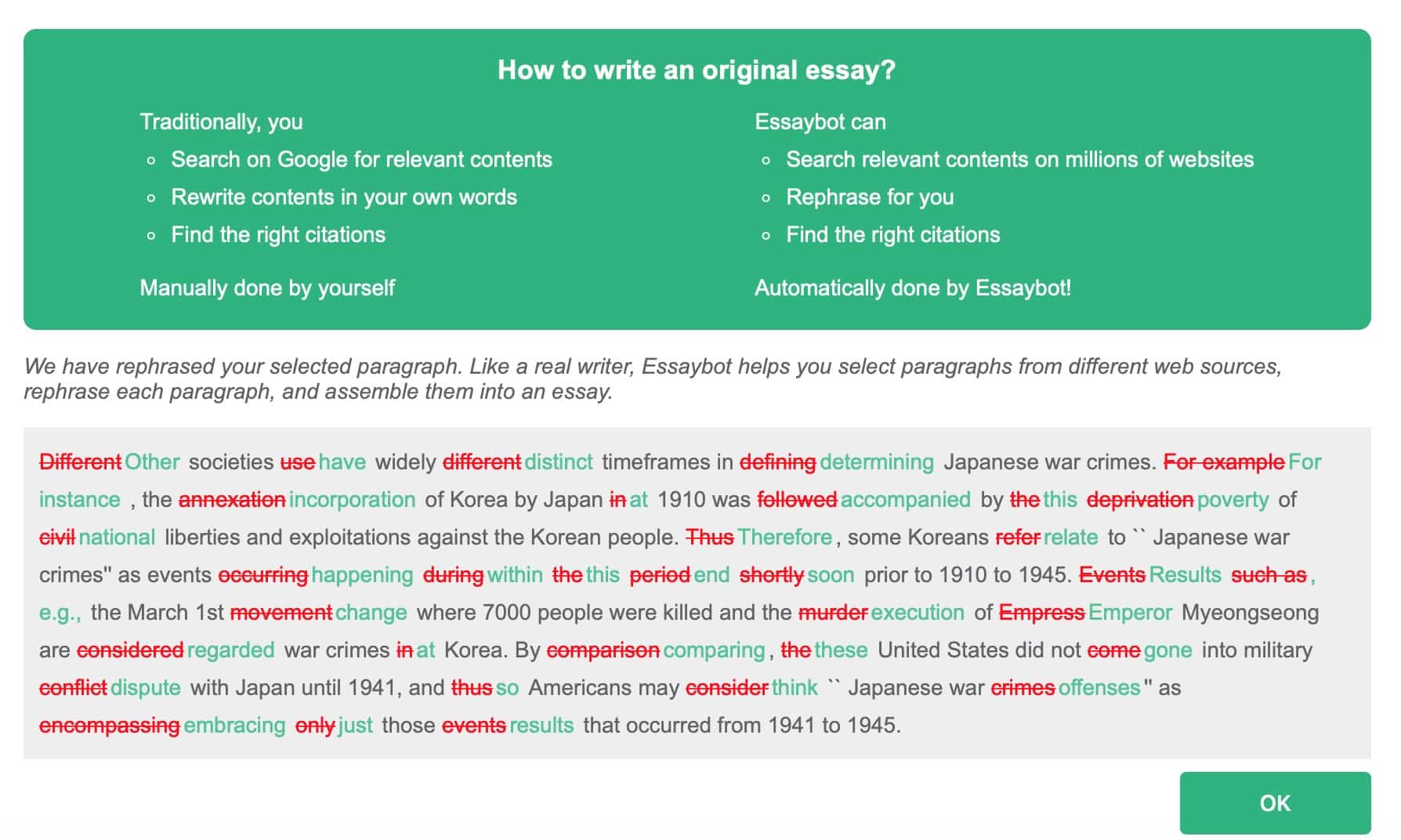 Service review
What else should be mentioned in the context of the service review is that sites like Essay Bot are extremely proud of integrating AI technologies into the niche of academic writing. The only problem is that there are tons of negative essay writing reviews about Essay Bot, which clearly state that the content of their papers was unsatisfactory.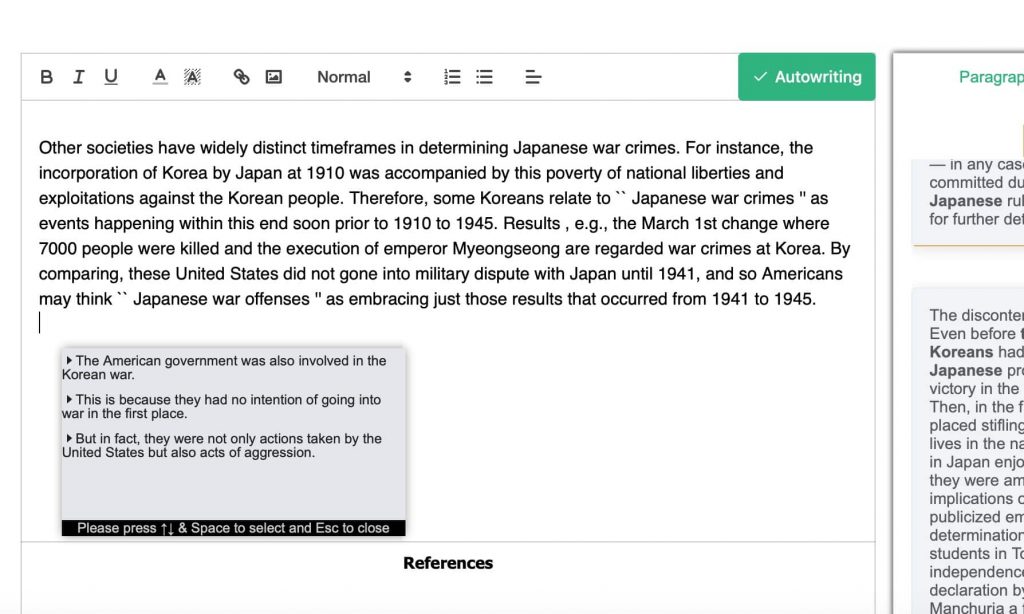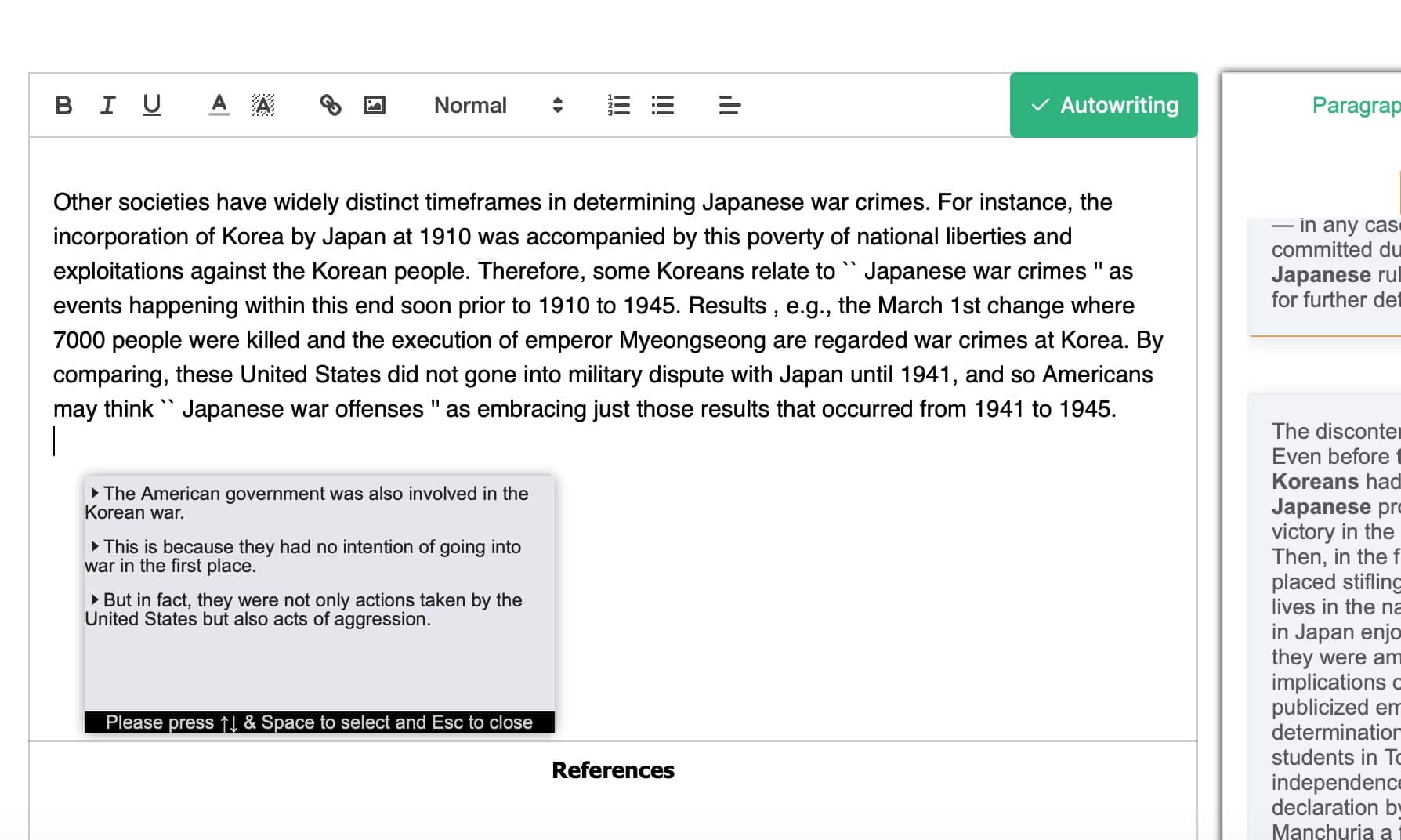 Since no real humans actually proofread or help you with a structure or sources you would like to use, any topic you try to enter will be under-researched, possibly containing plagiarism, and feel like a text written in a generator or a writing tool, but not by a human. Overall, the paper that you get on this website will most likely be of such quality that you might want to rewrite before submitting it. Except for this service, this paraphrase bot can also make citations, check grammar, and check plagiarism.
Pros and Cons
Overall, let's take a look at the strong and weak sides of this bot writer.
Pros:
Unique service
Affordable for most students
Cons:
Poor quality that needs heavy editing
Insufficient credibility of the work
Plagiarism issues
Only e-mail customer support
No human writers to correct mistakes
Online reputation
The funny thing about Essay Bot is that we struggled to find any reviews of this website. Neither Sitejabber nor Glassdoor or Google have reviews of this service, which seems to be suspicious. We found a few reviews on the Web, which were suspiciously positive, but they were soon deleted. You see, it's really hard to perceive this site as a credible academic assistance service.
EssayBot – Guarantees
What makes the situation even more absurd is that Essay Bot guarantees that you will receive an option to have your paper written from an unlimited search database, accompanied by a plagiarism checker, auto writing suggestions, citations, and "top-notched" grammar checker. The maximum you can really get relates to those auto writing suggestions, which, as you've seen before, work poorly.
Types of service
After we discovered that using Essay Bot means receiving fake reference lists and insufficient plagiarism reports, we can only say that it offers auto writing suggestions, coupled with a search database. It's hard to impress a student with such a model of a typer bot, believe it.
Paper quality
Let's just skip this, alright? We've already demonstrated in our review bot that the quality of the works you can receive is just not a standard of an academic paper. Full stop.
Information about the writers
You're the only writer on this platform. Yeah, you heard it right. No real human can help you to research your topic, proofread your text, or create a list with recommendations on how to fix your mistakes in the long-term perspective.
EssayBot – Customer support
From what we found out in the course of our essay writing software review, the only way to talk to real people is via e-mail. These customer support representatives mostly resolve issues related to payments and subscriptions. How ironic is that!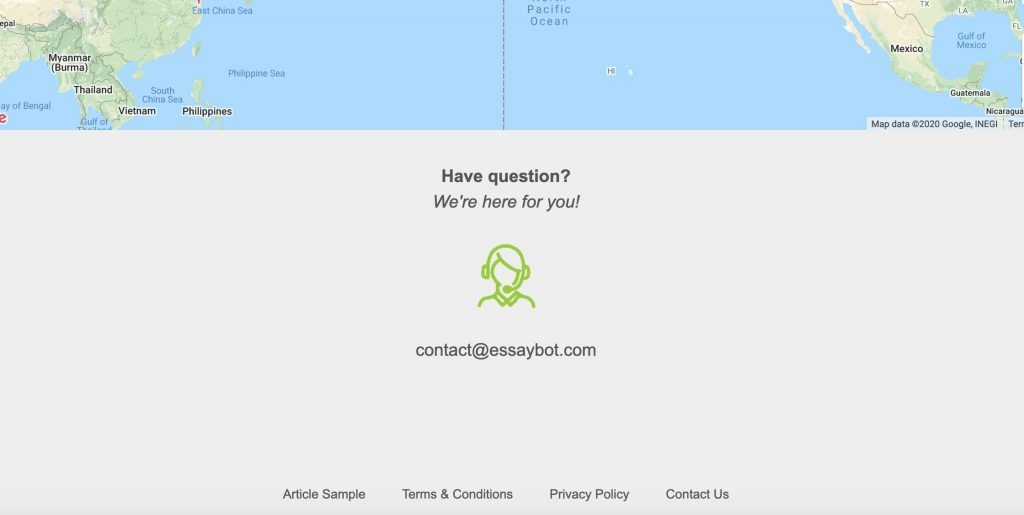 Offers and extra services
As you know, alternative websites in 2020 offer research proposal help as well as dozens of minor services that accumulate to the point when you have a generally positive impression about a website. Forget all that once you sign up to Essay Bot. Even some automatic essaywriter free solutions allow writing something expect for an essay, but not the Essay Bot.
More reviews
You might say that I'm too skeptical or picky. But believe it, the "success" stories on the main website of Essay Bot are just hilarious. You cannot build up your reputation by inserting a few images from Unsplash and write three sentences that your service is fantastic.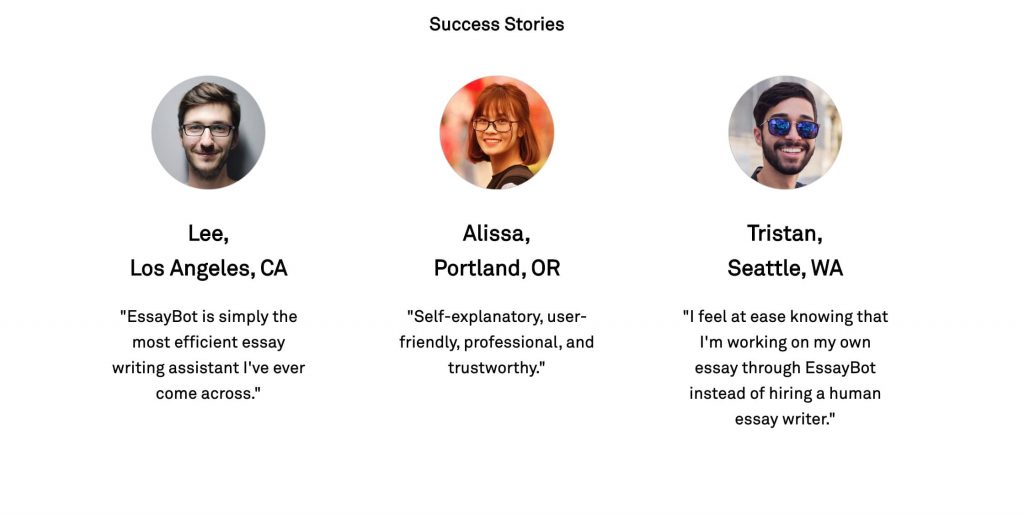 If you want some real reviews, go ahead to Essay Bot Reddit.


EssayBot FAQ
Create your account, type the title of your essay, use auto writing suggestions, and finish your essay.
No. It works on a subscription-based model.
Yes. We found no issues in this regard while using this service.
❎ Does Essay Bot have an essay writer free trial?
No. Prepare to pay $2.49 for a one-week trial period.
❎ Is Essay Bot sage? Is it easy to get caught Essay Bot cheating?
Absolutely! The problem with this service is that any text looks unnatural and such that wasn't written by a real human.
It's up to clients, but we cannot consider this service a good one.
General Impression
Should we say once again that we weren't satisfied with this website throughout a whole Essay Bot review? Not only this site offers ambitious guarantees, which it doesn't want to comply with, we also spotted that it creates fake reference lists. Most of the auto writing suggestions are just rephrased sentences from Wikipedia or other non-credible sources. Grammar and plagiarism checkers always show that everything is fine, in contrast to the checkers that we always use. The list goes on and on with the flaws of Essay Bot. Please, update us once the website gets better with its AI technologies working, not just paraphrasing pieces of text.